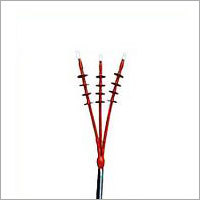 Since our inception, we are engaged in manufacturing, supplying and exporting an impeccable range of 
HT & LT Cable Jointing Kits
. High quality polyethylene plastic and other quality components are used for manufacturing these kits.
Owing to their low thermal insulation and high metal sheath, these joining kits are suitably used for overhead and underground power transmission of high voltages. Our range of joining kits are available in HT and LT types, which are offered as per clients' demands.
We offer these 
LT and HT Cable Jointing Kits
 in different lengths and dimensions to meet with our clients' expectations.
Features:
Compact design
Lightweight
Portability
Fine fitting
Low thermal insulation
Heat & shock resistance
Longer service life
Electrical Performance
Test Requirement
12KV  (6.6/6.6KV, 6.36/11KV)
15-24KV (8.7/15KV, 11/11KV, 12.7/22KV)
36KV (19/33KV)
A.C. Withstand, 1 Minute
35 KV
50KV
75KV
D.C. Withstand, 15 Minute
48KV
96KV
144KV
Discharge Extintion Voltage (<5Pc)
12.7 KV(Min)
25.4KV(Min)
38KV(Min)
Impulse Withstand (Crest KV)
75KV(Min)
125KV
170KV(Min)
Continuous Current Rating
As Per Cable
As Per Cable
As Per Cable
Ordering Information
12 KV
15-24 KV
36 KV
Cable Size (Sq mm)
Kit Code
Cable Size (Sq mm)
Kit Code
Cable Size (Sq mm)
Kit Code
16-50
UXS-11
25-50
UXS-21
35-70
UXS-31
70-95
UXS-12
70-95
UXS-22
95-150
UXS-32
120-185
UXS-13
120-150
UXS-23
185-300
UXS-33
240-400
UXS-14
185-240
UXS-24
400
UXS-34
400-500
UXS-15
300-400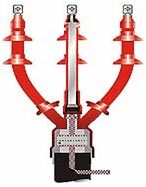 Denson make Heat and cold Shrinkable Cable Jointing kits of all type and range with cable accessories like Heat shrinkable Tube, Medium and High Insulation Tapes, Cable Repair sleeves etc.

Denson make Perforated Cable Trays & Ladders type CableTrays, High & Low Voltage BUSDUCTS, Insulated Ladders, InsulatedThird Rail Covers for rapid transport systems, tailor made profiles forvarious installation uses & insulating support for switchgear.
Denson Yamuna Power Cable & Accessories

There are wide range of Cable Joints or Cable Jointing Kits are avilable here. Products of Yamuna Cable Accessories are very truntable products and use our all products by our customers with fully satisfy like XPLE, PILC, Heat Shrik Cable Tubing, Power Cable Accessories, Electrical Cable Accessories, Elbow Connector, Insulator Tab and more other.
The cable jointing system works properly in underground cable even with water stagnation in the ground. We are specialized in providing the best assortment of heat shrinkable tubing products in India. Our broad stock of heat shrinkable tubing products is always ready and we are also invariably eager to supply you international standard of products.
We manufacture products that meet the requirements of our esteemed clients. We always make that our customers want and need. Our one-stop online source for best quality heat shrink tubing and other superior quality cable jointing products. Our official website is simply designed to give you the complete details and product information you need about the heat shrink tubing products we manufacture and supply.
Cable Jointing Kits -
Heat Shrinkable - Anti-Tracking Rain Sheds
Heat Shrinkable - Anti Tracking Breakout
Heat Shrinkable - Anti Tracking Right Angle Boot
Heat Shrinkable - Anti Tracking Straight Boot
Heat Shrinkable - Insulating Wrap around Sleeve
Heat Shrinkable Semi - Conductive Breakout
Heat Shrinkable - Cable End Caps
Heat Shrinkable - Busbar Insulation Tape
Heat Shrinkable - Medium Wall Insulating Tubin
Heat Shrinkable - Dual Wall Tubing
Heat Shrinkable - Tripple Wall Tubing
Heat Shrinkable - Stress Control Tubing
Heat Shrinkable - Anti Tracking Tubing
Heat Shrinkable - Busbar Insulation Tubing
Heat Shrinkable - Low Voltage Insulating Breakout
Medium Voltage - Conductor Cover
Copper Braided Strip - (Tinned/Untinned)
Copper Mesh Tape
EPDM Cold - Shrink Tube